Best Studio Chair
Herman Miller Aeron
Don Makoviney
Last Updated: April 28, 2016
---
Herman Miller's Aeron chair is the best for most home studio owners. It has a unique feature that accommodates for the natural forward tilt of the human pelvis. It is also one of the few that combine that level of posture support with a mesh fabric - allowing your body to breathe and reduces sweat and heat - which is important in a recording studio environment.
---
For many, a chair is an afterthought when it comes to equipping their studio. But in reality, it's a studio item you use more than anything else.
What to look for in a great chair for your recording studio
A great chair should adjust to fit your particular body type. It should be able to adjust up or down to fit the height of your desk. It should also breathe, or at the very least not have pockets your body gets sucked into that can perspire easily.
A high-backed chair, particularly with a solid fabric, like leather or plastic, can alter how your audio sounds to you while you are mixing. This Redditor found out the hard way:
At the listening position in my equilateral triangle, high frequencies were reflecting off the chair and several inches away into my ears, combining with the original waves at an incredibly fortuitous distance as to avoid combing at noticeable levels, and ultimately increasing the high frequency response and widening the stereo field due to where the reflections were coming from and how I was perceiving them.
Keep these features in mind when picking a proper studio chair:
Fabric, or mesh covered.
Chair back: Nothing above the shoulders.
Try your chairs out in person
It's pretty tough to pick a chair that is the best choice for every single home studio producer. Everyone has different needs and some even have specific medical needs which may negate our picks entirely.
While you may prefer buying online, you should go to a store and try them out first. You might find a great online review about a chair you like, but you don't know how tall that reviewer is, or what kind of physical shape they are in. Even if the reviewer does happen to post their height, or weight, maybe your legs are longer, or short. Maybe you have a longer torso. Or perhaps you have back issues or medical needs that should be considered.
Our pick
Herman Miller Aeron
The Aeron by Herman Miller is the best studio chair for most people. It has a really cool mechanism which supports the way your pelvis tilts naturally forward This way your spine stays aligned and you avoid back pain. The Pellicle suspension (the breathable part) conforms to your body, reduces pressure points, and provides really great support. It also dissipates the body heat you build up while you're recording.
The Herman Miller Aeron has been around for awhile now, and the hundreds of reviews averaging near-five-stars attests to it's comfort and durability. You can read them all here, but we've provided a sampling below:
Try them out in person first
Picking the correct size Aeron is important. Try them out in person first, as this customer found out:
If the Herman Miller sizing chart shows you to be an A/B or B/C – in other words, capable of using a B or C sized seat in my case, watch out. While you might normally think this means that you could 'theoretically' fit in either seat, what it really means is you have a borderline condition and you need to dig deeper. The B sized seat was painful for me, even though the chart implied I would be comfortable with that size. On the front of the Aeron seat, below the mesh, is a foam crescent-shaped insert. If you get the wrong sized seat (for your actual needs, not for what the chart says), the foam crescent applies a LOT of pressure on the exact wrong part of your thighs. I found the pressure from the B sized seat crescent to be absolutely intolerable. Fortunately, my local retailer let me swap the chair out.
More user reviews
Reviews from home studio owners are positive. This Gearslutz forum user noted:
Hard to go wrong with an Aeron chair. I've been using mine for 15+ years and except for dust it's as "like new" as day one. Built like a frikin' tank and if you remind yourself to sit in it properly it's gonna help you. That's the thing with most Chairs, even the high zoot ones…you CAN slouch in 'em. I see 'em still going for what I paid back then…ca $500. Not cheap but the quality cannot be beat. Kinda like the Neumann of Chairs.
In that same thread, this user reiterates that, for the Aeron, getting the correct size is really important:
Aeron mesh is great, especially if you room runs hot in the summer, no swamp ass. If you go that route buy a C if you are over 6′ or even 5'10" tall at any weight IMO. The downside to aerons is the bar that goes across the front will tend to cut off circulation to the legs after a while. This means you will want to set the seat pan on the low side and this will lead to the ultimate shortcoming of the aeron. With all the weight on your butt (not split to upper thighs) it rolls your hip bones in like a hammock. After long consecutive days on that one I could hear my hip joints pop when standing up and you can actually feel that your hips are still rolled in when lying in bed at night! 4-5 hrs a day 20 to maybe 30 a week max for me…consecutively over that for 6 mo's or so or more and I start to feel it.
The Aeron is great – make no mistake about it. It is ergonomically correct in every way. Of course, this means they work best when you are sitting in like a student or office worker, working on a report or term paper or something.
The reality is you probably won't be sitting with perfect posture all the time. If you're like most people in their home studios, you'll be reaching up to move patch cables, or hunched over – playing along with your tracks as you add bass, or drum loops, or trigger samples, or some sort of accompaniment.
So unless you have some physical or medical needs which dictate otherwise, consider going with a more budget-friendly recording studio chair option.
On Herman Miller's official Aeron product page, they have a great video and PDF for configuring and tuning your chair to your body type and posture.
Budget option
IKEA Markus
After reading through The Wirecutter's guide to the best office chair, I tried out their budget pick on my next visit to IKEA, and I have to say, the Ikea Markus is pretty great for $200. It also has a breathable mesh, like our main pick. The Wirecutter noted:
This chair lacks the adjustability and comfort of higher-end models but has adjustable reclining and built-in lumbar support, which is rare at this price. [It] is as good a chair as you can get for $200.
Exercise ball
Gaiam Balance Ball Chairs
Many of my friends use an exercise ball, and I have to say, they're kind of great. I tend to fidget while I'm listening to sections of songs over and over again – especially while I'm mixing. Grammy-award winning producer Dan Wilson does the same thing, and his home studio is affectionately called The Ballroom:
If you think an exercise ball might be up your alley, go check out some of these best reviewed balls on Amazon.
Conclusion
As a home studio owner, you probably already sink all your money into gear and instruments. We think that paying extra for a nicer chair, if you can afford it, is a worthwhile investment since you'll be spending a lot of time in it.
Happy sitting!
---
Tell Me If There's A Deal For This
Best Studio Chair
Herman Miller Aeron
---
Important Specs
| | |
| --- | --- |
| Origin | Made in USA |
| Assembled Seat Height | 18 inches |
| Chair Weight | 48 lbs |
| | more specs |
Synopsis:
Herman Miller's Aeron chair is the best for most home studio owners. It has a unique feature that accommodates for the natural forward tilt of the human pelvis. It is also one of the few that combine that level of posture support with a mesh fabric - allowing your body to breathe and reduces sweat and heat - which is important in a recording studio environment.
Where To Buy: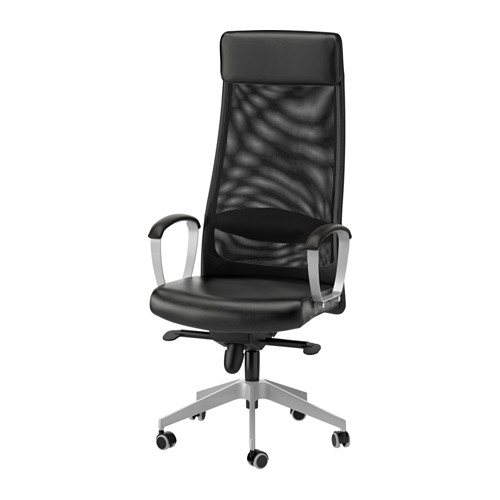 Sources
Kyle Vanhemert, The Wirecutter, 20151223
The best office chair

" Thanks to its ball-and-socket armrests (which function like a human shoulder), it offers a wider range of adjustability than any other task chair, so you're more likely to find a fit that works for you, however you like to sit."
Originally published: January 29th, 2016
---